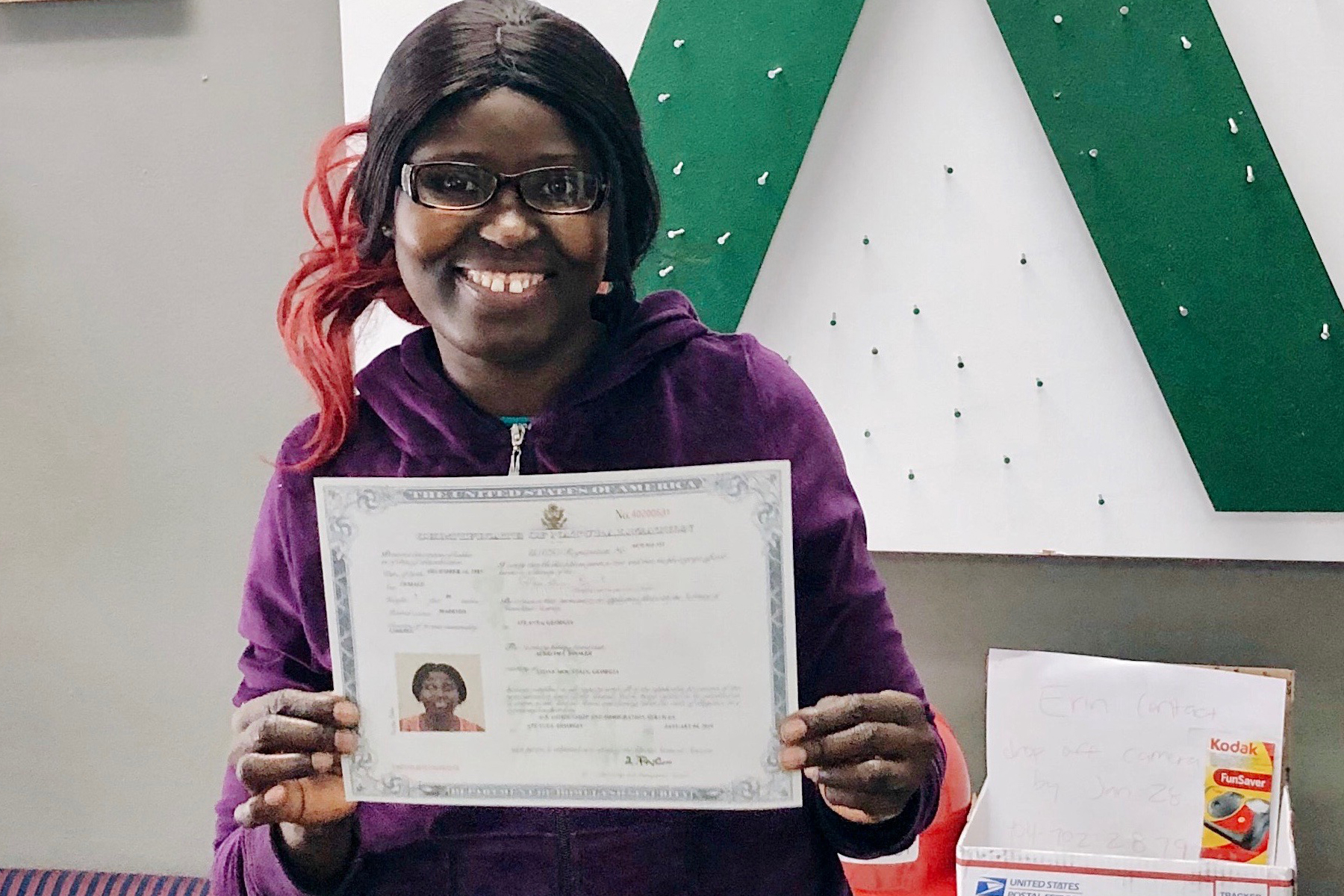 "I hearby declare, an oath, that I absolutely and entirely renounce and abjure all allegiance and fidelity to any foreign prince, potentate, state, or sovereignty, of whom or which I have heretofore been a subject or citizen; that I will support and defend the Constitution and laws of the United States of America…"
Albritha's voice rings out among a sea of others gathered in the ceremonial courtroom. For her, this moment is the culmination of years of hard work.
Her story is not unlike many other refugees'. Born into ceaseless civil unrest, Albritha made the difficult decision, at 20, to leave Liberia. Her hope for a better future came at a cost— her mom, dad, brothers, sisters and grandparents she left behind.
But like Liberia, Ghana had challenges of its own.
"Ghana is a place that you struggle," Abritha shares.
She soon became married and started a family. But eventually she realized that, while they couldn't return home to Liberia, they couldn't stay in Ghana either.
Albritha and her husband pursued the lengthy process of applying for resettlement. Finally in July of 2015, after years of being displaced, the United States of America became "home."
In America, Albritha was steadfast about returning to work. But, as her family grew, it became difficult for her to find a job that offered a practical schedule that allowed her to meet her kids' needs. She kept her 12-hour shift until she could no longer make it work. That was when a family member referred her to Amplio Recruiting.
"My nephew brought me to the office and I talked to Luke," she remembers. "I applied, and then I waited—and kept praying."
Albritha's prayers were answered. Atlanta office Managing Director, Stephen Assink, soon called about a position at House of Cheatham, a local hair products manufacturer.
She began as a "packer" in July of 2017, and quickly made a name for herself because of her hardworking spirit and passion for excellence. Later that year Amplio recognized her leadership skills and promoted her to Amplio Team Leader, making her responsible for overseeing their 20 employees there.
"As Team Lead at House of Cheatham, Albritha has proven an immeasurable asset in helping us, at Amplio, better serve House of Cheatham," shares Stephen. "Over the past year and a half, she has gone above and beyond in making sure that House of Cheatham and Amplio are strong partners."
"My favorite part about my job is the people," says Albritha. "I love the diversity. I love to be with people from different nationalities."
Beyond her promotion to Amplio Team Leader, Albritha was recently hired on permanently at House of Cheatham, and assigned the role of back line lead, where she helps set up the assembly production. Albritha not only loves her job, but it has given her family the stability they needed.
"There is life. There is hope," she says.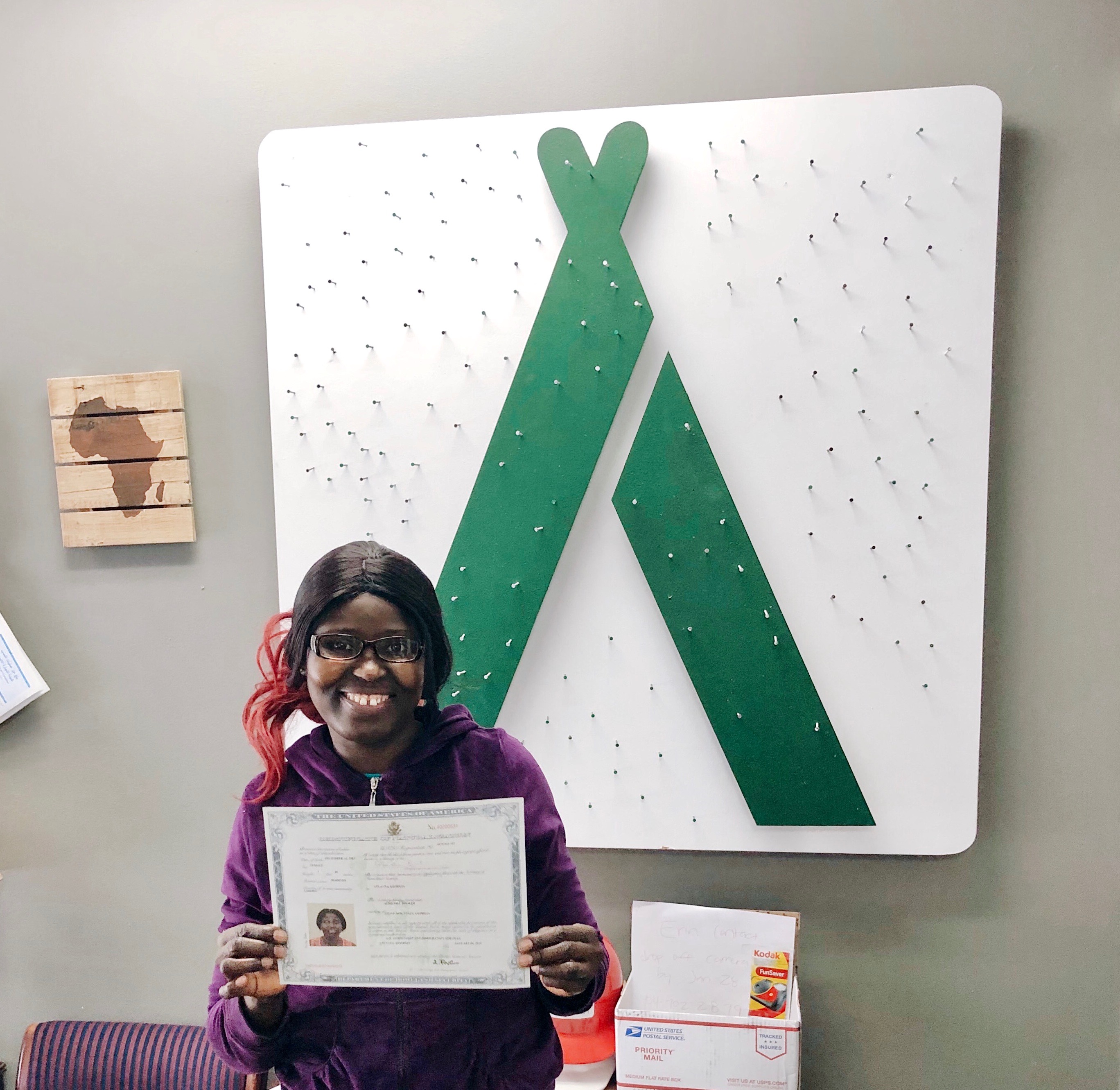 Albritha doesn't consider herself a refugee anymore. Now, she is an American.
Like many others who have gone before, and taken the same oath, she knows this truth:  "Becoming an American citizen is a privilege."
It is a privilege she is grateful for.
At Amplio, we believe the refugee workforce is America's best-kept secret for economic growth. Resettled individuals, like Albritha, are proving their talent and motivation in companies in cities across the U.S. including Atlanta, Dallas, Houston, and Raleigh. To learn why refugees make some of the best employees, or learn more about our services, visit our website or contact us today.